FAQ #125

Weekly views: 8

To give another deviant a direct link to this FAQ answer, use the following code in your comment or forum post:
What is SitBack and how do I use SitBack?
Are you tired of browsing images one by one? If so, SitBack is your answer! SitBack allows you to just SitBack and enjoy a Slideshow of images right on your screen! With SitBack the possibilities of what you watch are endless.
Using SitBack
To use SitBack simply visit the browse page, a deviant's gallery or anywhere else you can browse deviations and click on the projector icon (

), or the "slideshow" button located on the upper right hand side of the page to start the slideshow. Once clicked, the SitBack application will launch as a popup window and your slideshow will be loaded.
After everything has loaded you will notice several control options located at the bottom of your slideshow: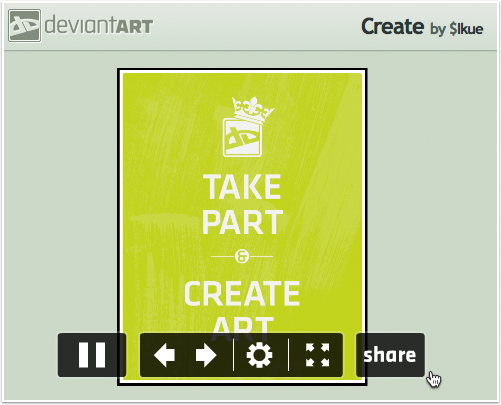 Play/Pause
Clicking the Play or Pause buttons will either play or pause your show.
Back/Forward
Clicking the Back arrow button will take you further back in the show and clicking the Forward arrow button will take you further in the show.
Gear
The Gear button will take you to your slideshow settings. It is here you can change how your show is displayed right down to the length of time each image is displayed.
4 Arrows
Clicking on this button will bring you in or out of Fullscreen mode.
Share
Clicking on Share will allow you to either copy the direct link to the sideshow you are watching or the embed code for it. You can use the direct link for example, to give to a friend so they can watch the show with you. By using the embed code you can display the show directly on your website!
SitBack also features keyboard shortcuts. Using your spacebar you can Play or Pause the show. You can also use the back and forward keys to navigate through the show.
Example Slideshows
Deviations submitted in the last 3 minutes
Daily Deviations