FAQ #72

Weekly views: 66

To give another deviant a direct link to this FAQ answer, use the following code in your comment or forum post:
How do I edit or delete my deviation or scrap submissions?
Editing Submissions:
To edit a deviation or scrap submission simply view the deviation you wish to edit and then click on the link entitled 'Edit Deviation', to the right of the image. From here you can choose to edit various components of the image file, including the title, the keywords, the description, the mature content rating, the critique preference, the category and the picture file itself.
Note that each edit is confined to exactly what you're editing - for example, if you alter the pictures description, only the description is changed, and the image itself is left untouched. The only exception is when you're uploading a new picture - in this case, the preview is being regenerated as well to match your work.
Please also see:
FAQ #666:
Will my watchers be notified of my deviation and scrap submission edits?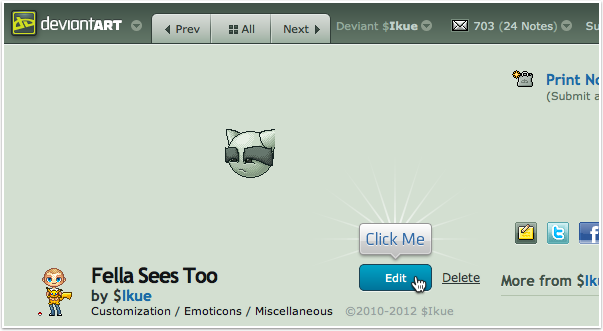 Deleting Submissions:
To delete a deviation or scrap submission simply view the deviation you wish to delete and click on the link entitled 'Delete Deviation', located to the left of your deviation or scrapbook submission. You will then be shown a dialog, proceed by selecting a reason for deletion.
See also:
FAQ #10:
Will the deviantART staff remove all my deviations for me because it takes too long for me to delete deviations one by one?